Manuscripts
cover a wide range of topics. The various holdings are comprised of papers of organizations and individuals, diaries, company records, correspondence and other materials. Narrative finding aids with folder-level descriptions are available online for all processed manuscript collections.

Images
are valuable resources for research. Among the subject areas are cities and towns of Kansas, sod houses, aviation, and Western scenes.

University Archives
are the non-current records that document the development and growth of the University. The papers of past presidents, administrators and distinguished faculty, publications by and about the University, catalogs, photographs, student newspapers, and the yearbooks comprise the holdings.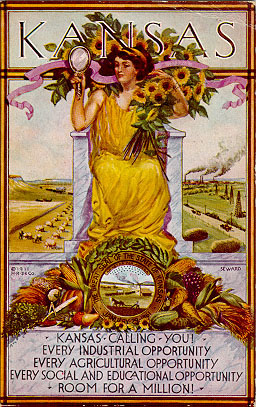 Designed and illustrated by Wichita artist C. A. Seward, this postcard was part of a publicity campaign coinciding with Kansas Day, January 29, 1912.
Maps
from the Baughman Collection of Early Kansas Maps, a collection of 19th-century maps, form the nucleus of the collection and depict Kansas and the territory that would become Kansas, dating from the 16th century through the 20th century. A recent project is the digitization of over 325 early Kansas maps.
Rare books
include subject areas such as Wichita and Kansas history, the U.S. Civil War and Sanitary Commission, abolition, the history of printing, Mesmerism and hypnotism, and aviation and other modes of transportation.
Local History
materials document Wichita and the surrounding area. They include manuscript collections, image collections, maps, books and the "Tihen Notes," Dr. Edward N. Tihen's notes from Wichita newspapers.