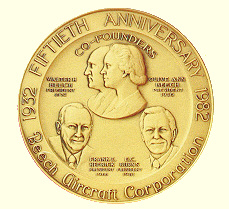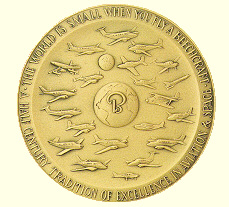 For 50 years from its establishment in 1932, Beechcraft continued its growth to the industrial prominence it enjoys today, through deliberate, planned policies of expansion and diversification, and by its early entry into the national space program. The company also developed a line of missile targets for training and acquired a wide variety of subcontracts from other aerospace manufacturers.
During her years as secretary-treasurer of Beech Aircraft, Mrs. Beech worked particularly closely with the financial side of the company, and played a key role in major company decisions. Unfortunately, Mr. Beech became ill in 1940, and he was hospitalized for nearly a year. Relying on nearly fifteen years of close work with her husband, Mrs. Beech stepped took over leadership of the company without hesitation, and steered it through that year of turbulence. One of her first fiscal actions was to arrange loans for millions of dollars to fund the company's retooling for military production.

After the war, the Beeches began the process of reestablishing the company's role as the world's leader in aviation. Sadly, 1950 again brought tribulations to the Beech family. In June, as hostilities began in Korea, another urgent demand went out for military aviation support. In November, Mr. Beech succumbed to a heart attack. Not one to allow personal tragedy to stand in the way of their shared dreams, Mrs. Beech once again assumed control of Beech Aircraft, as she was elected president and chairman of the board in December, at the age of 47.

Under Mrs. Beech's able guidance, Beech Aircraft continued its growth, and through her wise policies of deliberate, planned expansion and diversification was able to again become a guiding force in the commercial aircraft industry.

When Beech Aircraft Corporation merged with the Raytheon Company in February 1980, Mrs. Beech was elected to the board of directors of Raytheon. In September 1982, she retired as chairman of the board of Beech Aircraft to become the company's first Chairman Emeritus.

On July 6, 1993, at the age of 89, Olive Ann Beech passed quietly away in her sleep, at home in Wichita. Her distinguished career was a tribute to the nation and the free enterprise system that made possible her rise from secretary to the esteemed position of First Lady of Aviation.