James R. Mead (1836-1910) is best known for his role in founding the city of Wichita; however, he was also an early settler in the Kansas Territory. He established several important trading posts and actively traded with Native Americans as well as pioneers like William "Dutch Bill" Greiffenstein, Jesse Chisholm and William "Buffalo Bill" Mathewson during a period of roughly ten years (1859-1870). Among his business papers and correspondence with his parents are insights into life on the prairie.

James R. Mead, c. 1860

Mead recorded his impressions of Kansas Territory in a travel journal. Soon after entering the Territory he wrote: "My feelings on first setting foot on the soil of Kansas were various. We had a feeling of no security, that we had left the land of law and order and got among outlaws and desperadoes. This feeling however wore away soon. I felt that I had entered a land where an important scene in my life history was to be enacted and perhaps my lot cast for life."

Mead first settled in the Smoky Hill region in the summer of 1859 at the age of twenty-three, where he with two other men established a trading post along the Saline River. In a letter to his parents he described this region "as handsome a country as I ever saw." He wrote to his parents of the abundance and variety of wildlife that inhabited the region. Mead reported that at his first attempt at hunting buffalo, he shot thirty of the animals in one day, and he could have easily got more. Other animals he hunted included wolves, which were plentiful and antelope.
During the summer of 1863 Mead left the Saline Ranch and established a second trading post at Towanda in Butler County, Kansas. For the next several years Mead successfully operated his trading post. He continued trading with the Native Americans and supplying other traders. In a letter to his parents dated July 3, 1864, Mead wrote that "business had been very good of late" and that in the last three months he had "cleared one thousand dollars" which was money honestly earned "by fair trading, no contraband business about it."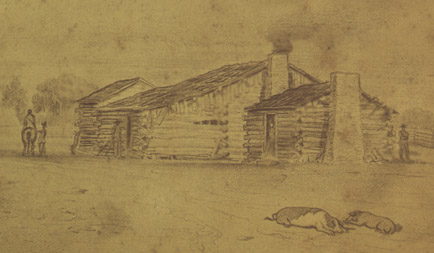 Towanda Trading Post, c. 1865
By the fall of 1868 the tense relationships between Native Americans and whites had escalated and Mead was anxious for his family and business. It was during this time -- perhaps as a result of a Pawnee raid on a nearby settlement -- that he sent his wife Agnes with the children to visit his parents in Davenport. Later, he decided to leave Timothy C. Peet, his assistant, in charge of the post and to move to a place later known as Wichita.
| | |
| --- | --- |
| | Mead filed a claim for land -- now bounded by Broadway to Washington and from Douglas to Central -- near the future town site in 1870, a year after D. S. Munger. Soon others joined Mead and Munger in establishing a town. Those men included N. A. English, William "Dutch Bill" Greiffenstein, and William Mathewson. These men also decided on a name for the new settlement near the junction of the Big and Little Arkansas Rivers. Some of the suggested names included Beecher, for Fort Beecher which was located nearby, and Hamilton. Mead and Greiffenstein suggested the Indian word "Wichita," which was the name of the tribe affiliated with the larger Caddo Tribe that lived in the area from 1863-1868. For that reason the area had for some time been known as Wichita Town, thus the name "Wichita" was decided upon. |
| | |
| --- | --- |
| During his years as a trader on the Plains, Mead came into contact with many Native Americans. He frequently conducted business with the local tribes. Besides the Wichita Indians, Mead became acquainted with the well-known chief of the Kiowa Indians, Satanta, or Sitting Bear, and other members of his tribe. Additionally, Jesse Chisholm was a business associate and close friend of Mead's. Mead records that Chisholm was the first to forge a trail through the region and it was for that reason the Chisholm Trail was named for him. | Jesse Chisholm, 1866 |

In May 1870 Mead wrote to his parents explaining his future plans. "My main interests, however, are at Wichita. I have there 160 acres adjoining the town site which is becoming very valuable, also an interest in the town which promises well in the future."

James R. Mead, c. 1872

Throughout his life James R. Mead was involved in many business ventures, which included real estate, cattle, mining, banking and other mercantile efforts. In 1864 he was elected to represent Butler County in the Kansas House of Representatives, and in 1868 was sent to the State Senate by the district comprising the four counties of Morris, Chase, Marion and Butler along with all the territory west to the state line which has since been organized into counties. As a founder and promoter of Wichita, he was instrumental in bringing in the railroad and developing the town.

In his later years Mead became involved in the Academy of Sciences and Kansas State Historical Society, where he served in leadership positions for both organizations.

He also wrote of his life and of early days in Kansas. His articles were published in the Collections of the Kansas State Historical Society, Scientific American, Transactions of the Kansas Academy of Sciences and various newspapers.

His papers are collected, preserved and available for research in the Ignace Mead Jones Collection of James R. Mead Papers at Special Collections and University Archives, Wichita State University Libraries.

In 2016 Wichita State University and the National Historic Records Preservation funded a grant to digitize over 13,000 items from the Mead collection.
---
Images in this digital exhibit may be in the public domain or under copyright which is protected by U.S. Copyright Law (Title 17, U.S. Code). Images in the public domain are made available for use in research, instruction and private study. Copyrighted materials may be used for research, instruction, and private study under the provisions of Fair Use, outlined in section 107 of copyright law. Publication, commercial use, or reproduction of a copyrighted image that does not fall under the provisions of Fair Use or the accompanying data requires prior written permission from the copyright holder. User assumes all responsibility for obtaining the necessary permission to publish (including in digital format) from the copyright holder. If publishing this image in print, electronically or on a website, for research, instruction or private study, please use the citation "Courtesy of Special Collections and University Archives, Wichita State University Libraries" and inform us of your use at specialcollections@wichita.edu. For other uses of materials, see Statement on Use and Reproductions, http://libraries.wichita.edu/ablah/index.php/aboutsc#use.

---